Become a Chrome Enterprise partner
Chrome Enterprise offers a flexible, secure and modern way of working. As a partner, you can sell ChromeOS and Chrome Browser products and generate new services revenue, all while helping customers move to cloud-based computing.
Enrol now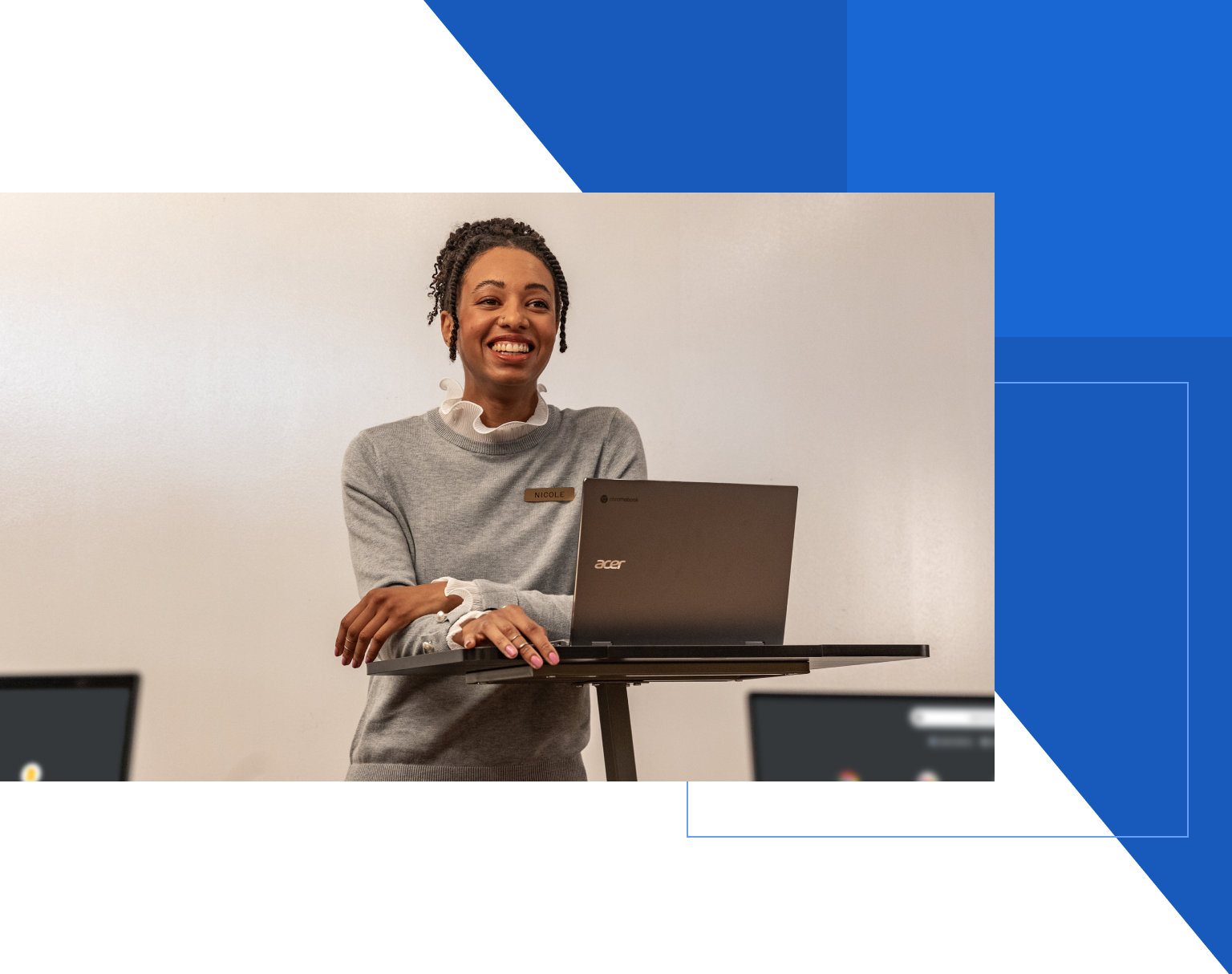 A rewarding programme built for and with partners
Our partners are a fundamental part of our team. Partners benefit from financial incentives, sales and marketing resources, technical enablement and more.
Receive product margins and rebates
Sell Chrome Enterprise Upgrade, which offers recurring revenue streams.
Receive upsell, refresh, and complementary product sales opportunities.
Receive accelerator or volume rebates.
Generate new services revenue
Offer deployment, migration, tech readiness assessments, proof of concepts, Works with Chromebook peripherals app development and/or managed services.
Benefit from promotions and incentives
Offer your business customers incremental value through starter kits, seasonal discounts and promotions.
Receive sales and technical support
Access ready-to-use presentations, collateral, demos and training to help you identify, validate, qualify, close and deploy.
Get pre and post-sales support from the Chrome Enterprise partner team and distributors.
Build skills to transform enterprise endpoints
Access partner-only sales and pre-sales technical training designed to enable you to position ChromeOS and Chrome Browser effectively with customers.
Attend Chrome OnAir webinars exclusively for partners where we cover new offerings, technical trainings, selling tips and more.
Magnify marketing impact and reduce costs
Participate in Google-funded and executed lead generation campaigns.
Utilise the power of our brand with ready-to-go marketing assets and partner promotion kits.
Receive support to create partner-led customer case studies.
Partner opportunities
Discover the opportunities available to you when becoming a Chrome Enterprise partner.
Resell Chrome Enterprise Upgrade and Google Workspace
Offer the Chrome Enterprise Upgrade to your customers to secure and manage their devices via the cloud-based Google Admin console. Couple it with Google Workspace to give customers the tools to create, communicate and collaborate. To resell these software solutions, enrol in the Partner Advantage programme and connect with a distributor.
Offer value-added services
Offer value-added services to help your customers make the most of their ChromeOS device fleet. Selling ChromeOS unlocks a suite of services to help you generate new streams of revenue – pre-sales evaluations, post-sales deployment, maintenance and support, and app and identity migration services to support your customers' move to the cloud.
Reach the right customers
ChromeOS is the modern and secure cloud-first operating system. Find your sweet spot and grow your customer base with ChromeOS for diverse industries and use cases.
Our partnership with ChromeOS is having a great impact on our customers, including better productivity, security and ease of management.

Being a ChromeOS partner was a great strategic choice for us because ChromeOS provides our clients with simple and functional IT solutions – we can guide our customers to the next horizon of cost-effective and business-accelerating IT.

ChromeOS has allowed us to leverage new opportunities by providing an industry-leading solution. As a ChromeOS partner, not only do we have access to the full solution but a series of resources that allow us to upskill and empower staff and clients.

Getech has seen significant business growth partnering with Google to develop ChromeOS solutions. Google has supported us every step of the way and we have gone on to develop our own 'onboarding' programme for other partners in the UK and Ireland.

Having ChromeOS onboard has unlocked additional opportunities – often a discussion's starting point is ChromeOS, but then it progresses into discussions around Google Workspace and Google Cloud. It has completed our portfolio of offerings and complements the ecosystem.
Dive deeper into your Chrome Enterprise partner journey